So, you need to travel in 2020 but you can't take the risk of flying commercial – time to begin the search for a private jet charter broker. The aviation industry is experiencing changes at rapid rates as consumers search for the solution to keep their business moving, leave the congestion of the city and connect with their family during the pandemic. Between the long lines, fewer routes and crowded planes: flying commercial simply is not efficient, safe, or even possible for many travelers right now. This is where a private jet charter service, as a travel option, exists and excels. However; how do you even begin finding the correct charter option for your needs? Advanced Aviation Team knows that a private jet rental is a big commitment and we want to help answer that question.
Within the aviation charter industry there are typically two main business models that are
used to fulfill travel needs. The first option is known as buying a jet card. How this works is simple: the client pre-pays for their flight hours, usually with a minimum of around 25 hours, to have the rights to a certain type of plane. This is a way to ensure a flat hourly rate every time you fly (excluding blackout dates and last minute travel). Think of it as buying a gift card to fly where and when you want on the type of plane that you think you will need. If you are flying private for the first time and this seems like a large financial commitment to start with, there are other options for you.
The second option is using an on-demand private jet charter broker. An on-demand charter service will book each trip individually to ensure that the details of the flight are uniquely catered to the specific trip's needs. When you fly on-demand, you are paying the current market price for your current needs. This doesn't mean that you can't book a trip months in advance. It means that you don't need to determine exactly how much you plan to fly in a given year. It is worth noting that some brokers, such as Advanced Aviation Team, are able to offer both options to their clients.
Flying on-demand offers some unique flexibility that the simplicity of a jet card does not. For example, for the remainder of 2020 there is a tax holiday on the 7.5% federal tax that is usually placed on private travel. If you pre-paid for your jet card, this tax holiday will almost certainly not affect the cost of your travel. You agreed to a pre-paid hourly rate and there is no incentive for your jet broker to return the money. However, if you are using an on-demand charter broker, then the hourly rate you pay per trip will be reflected in the market rate and you will not be paying a premium for a tax that is not being collected. Similarly, if you pre-paid for a jet card, you are still locked into flying that amount for the given year – pandemic or no pandemic. With an on-demand private jet service, you only pay when you fly. So, if you are traveling less than expected during the pandemic – you are not paying for trips that you are not taking.
Being based out of Washington, DC, Advanced Aviation Team sees many different types of flyers. We have seen clients that need to charter an airliner within the week, in order to move a large group of people with a quickly changing schedule. We have also seen families that need a one time private jet charter because they usually fly commercial but don't feel it's the safest route during a pandemic. AAT has seen the needs of our clients change on a whim and we don't believe it is something that they should be penalized for. There is no one size fits all when it comes to travel – no client is the same and no trip is the same. Whether you enjoy the simplicity of owning a jet card or need the flexibility of on-demand service, the ideal style of travel exists for you.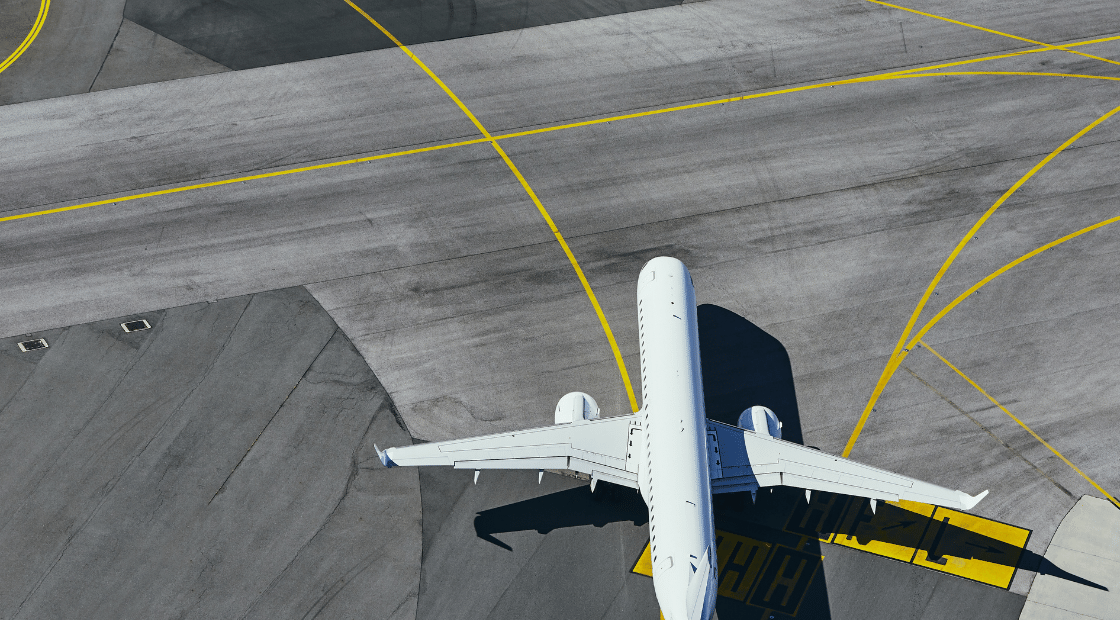 When travel plans require flights — regardless of if you're doing so for business or pleasure — those trips can quickly become more stressful. Residents who live near the nation's Capital have a couple of options in terms of commercial airports, including Dulles International Airport (IAD) and Baltimore Washington International (BWI), but each presents the same problem:
Flying out of a commercial airport means that you'll likely be spending a lot of time rushing to get from one place to another, waiting in lines, and dealing with crowds of other frazzled travelers.
The good news is there's an alternative to all that hassle. Traveling out of a private airport can mitigate some of the most dreaded aspects of air travel. Read on for everything you need to know about commercial aviation compared to from private airports, what's involved in the processes, and the pros and cons of each.
The Commercial Airport Process
Places like Dulles International Airport have a goal to get as many people in through their doors and onto their flights as possible, so commercial airports are built with this goal in mind. Any big airport is designed to process thousands of travelers each day, and, for the most part, doesn't put a lot of focus on creating exceptional passenger experiences. Very few people will tell you they truly enjoy all aspects of the process involved in flying out of a commercial airport. Planning a whole trip when traveling out of a commercial airport can be stressful and chaotic. Here's how that typically looks:
First, you have to think about ground transportation and how you're getting to the airport. Are you parking your car nearby or finding a different way to your terminal? Will you be able to grab a shuttle from your car to the airport?
Next, you have to think about timing. You have to give yourself plenty of time to spare to check your bags, get through potentially long security lines and still make your flight on time.
Now that you're through security, you must make your way to your gate where you'll be able to finally find a seat (if you're lucky and your gate isn't too crowded). But watch out, because your gate can change at a moment's notice, which means you'll have to run to the new one so you don't miss your flight.
Finally, the plane starts to board and you think that all the stress and waiting is over. It can sometimes take a long time for everyone to board and get situated, though, and you'll have to wait in line to board, secure your carry-on luggage, and wait for your plane to taxi to the runway. Your plane may end up in a line of other planes waiting on the tarmac to take off, too, which means you can be stuck for hours before you finally take off.
Hassles such as waiting for luggage to arrive on a dedicated carousel, lost bags, having to call a car, or searching through email to find your vehicle rental information on the other end can add to the time dedicated to travel (and cut into your vacation or work trip).
Let's not even talk about what happens with snow, ice, rain, and other Washington, DC area weather-related delays that require the FAA to make recommendations and the grounds and facilities crews to keep up with deicing the runway and aircraft for safe travel.
It's easy to see why traversing a commercial airport is daunting, and many people dread traveling for exactly that reason. Also, the stress of a trip to the airport is compounded when you've got a large party to watch out for or children (of any age) added to the mix.
Luckily, private airports offer an alternative to some of these issues.
The Private Airport Process
Unlike commercial airports, private airports are designed to give passengers a more convenient and high-quality experience. Here's what you need to know about private aviation and what it's like to travel from a smaller airport:
When you fly out of a private airport, you're going to have a drastically different experience than the hustle and bustle of a commercial one.
There are fewer people overall, which means less trouble parking, less crowded waiting areas, fewer delays, hardly any lines, and, in general, less stress.
There are lounges and waiting areas that allow you to stretch out, and you're almost always guaranteed a place to sit for a few minutes between arriving at the airport and getting ready to board your flight.
Fewer fellow travelers jostling around means you'll have personnel available to answer your questions or help you work through any concerns or issues that might arise.
When the time comes to board, you can walk right out over the tarmac and straight onto your plane, without having to wait for your boarding group to be called.
Because fewer planes come in and out of private airports, you likely won't have to wait on the tarmac in a queue for takeoff and will be on your way in no time.
Hassles such as storms or trying to corral all the members of your party still exist, of course, but traveling from private airports still eliminates many of the things that make air travel so stressful. The quieter, calmer environment can be perfect for business executive teams looking to get to a destination for company business, government officials who need to conduct meetings in air, as well as everyday travelers seeking access to a more luxury flight.
Comparing Commercial and Private Airport Options
While private airports can remove a lot of the hassles involved in commercial airline travel, it's important to keep in mind your particular needs and understand how the two options differ. Some of the downsides of commercial might be outweighed by its pros, for example, and those perks might not be available through private airports.
Here's a quick overview of the benefits and drawbacks of both private and commercial airports to help you decide which is right for your next business or personal trip from the Washington, DC area.
Commercial Airport Perks and Downsides
Some people prefer to fly out of certain commercial airports as some offer state-of-the-art technology and modern conveniences. Here are some of the pros of commercial airports:
Large, commercial airports are great for travelers who want to land close to or directly in a big city, as most commercial airports are within easy reach of downtown hubs.
Many commercial airports offer rental car services nearby, as well as shuttles to close hotels and other conveniences.
These airports are also loaded with amenities like shops and restaurants, so you can have a nice dinner and pass the time shopping while you're waiting for your flight.
While commercial airports offer some benefits over private airports, here are some negative aspects to keep in mind:
There are often large crowds and long waiting times both in the airport and on the tarmac.
More flights get delayed or canceled due to weather issues
You'll have to plan your itinerary around your flight time, which may end up being inconvenient, as it's recommended that you arrive at least two hours before your scheduled time.
When you live in a metropolitan area like Washington, DC, you might feel the standard commercial airline experience is your only option. The truth is that there are plenty of jet charter opportunities available, and those private jets may be the best option for your situation.
The Pros and Cons of Private Airports
Traveling on a private jet charter from a private airport has a few distinct advantages over the commercial airline options at large airports, and these factors make private airports attractive to business travelers and frequent fliers alike. These include:
Private airports are generally less crowded and busy, which means you'll have fewer lines and delays overall.
Fewer passengers on your private jet means you won't have to wait for a lot of people to board, and you'll have much more personal space once you're in the air.
Your private charter flight will always be going to your exact destination at a time that's convenient for you.
You don't have to worry about checking luggage or losing any of your suitcases during travel on a private jet, because you can bring your things (even bulky items) onto the plane with you.
Private charter flights don't get delayed by weather as often as commercial flights, because they can land in more places and have smaller runway surface areas to keep clear of snow and ice.
Private airports offer more convenience because they are often miles closer to travelers' destinations, so flying into a private airport can save you time getting to where you need to be after landing.
There are many more private airports in the United States than commercial airports.
You get personal interactions with your pilots and crew on a private jet, which can be exciting for clients and passengers of all ages.
Traveling out of a private airport offers travelers plenty of conveniences and personalized service, making the entire process a breeze. There are a few drawbacks, though, including:
Private aviation lacks the hustle and bustle of a commercial airport, which can sometimes be exciting.
That means private airports often don't offer amenities such as shops and restaurants, which might not be a big deal for short trips.
Flying out of a private airport on a jet charter can sometimes be more expensive than commercial.
The truth is that you don't know if a commercial or private aircraft is right for your trip until you look into the pros and cons of each. Any traveler who has questions about whether a commercial airport or private airport is the right option should feel welcome to reach out to a private jet charter provider to ask for more information.
Searching for a Private Jet Charter Provider?
If you're interested in skipping the stress of flying commercial at Washington Dulles and want to have a great private airport experience, the Advanced Aviation Team is here and ready to provide you and your party with the best available private jet charters.
We've been serving the greater Washington, DC, area — executive parties, government officials, and more — with luxury private jet charters for years, and our team is happy to answer any questions you may have about the pilot team we employ, the aircraft we have available, the number of miles we can take you, and any other step of the process.
Contact us today for more information.